PRESERVE YOUR BEAUTIFUL WEDDING DRESS
Let us restore your wedding dress to its original glory. We provide specialist bridal wear cleaning services in Belfast. We come highly recommended by clients that include Blush Bridal, Una Rodden, Mary Rose McGrath, Ivy and White and Pronuptia.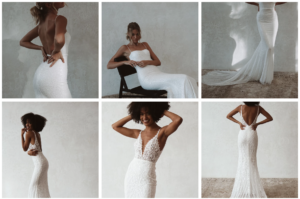 WEDDING DRESS CLEANING SPECIALISTS
When your wedding has come to a close, we understand that you will want to preserve the memories of your special day. Let the professionals at Mint Specialist Dry Cleaning Centre restore your wedding dress to its former glory, so it can be passed down to future generations. We specialise in the Baptiste process, which can be applied to silk, delicate, embellished, and hand-painted gowns, so you can rest assured that we will look after even the most delicate or intricately-designed wedding dress.

WEDDING DRESS BOXES
It has become increasingly popular for brides to sell wedding dresses online. To do this, the dress must be in top condition in terms of cleanliness but also packaged in a professional manner.
We not only offer an expert wedding dress cleaning service, we also offer decorative boxes and packaging for your wedding dress. This allows you to keep your dress safe and clean, as well as offering an attractive package for would-be buyers, greatly increasing your chances of making a sale.
SPECIALIST BRIDAL WEAR CLEANING SERVICES
Our specialist cleaning service includes:
Bridal wear
Wedding gowns and dresses
Wedding suits
Delicate fabrics and embroidery
Trust our dry cleaners to clean your bridal wear to perfection; contact our experts today.